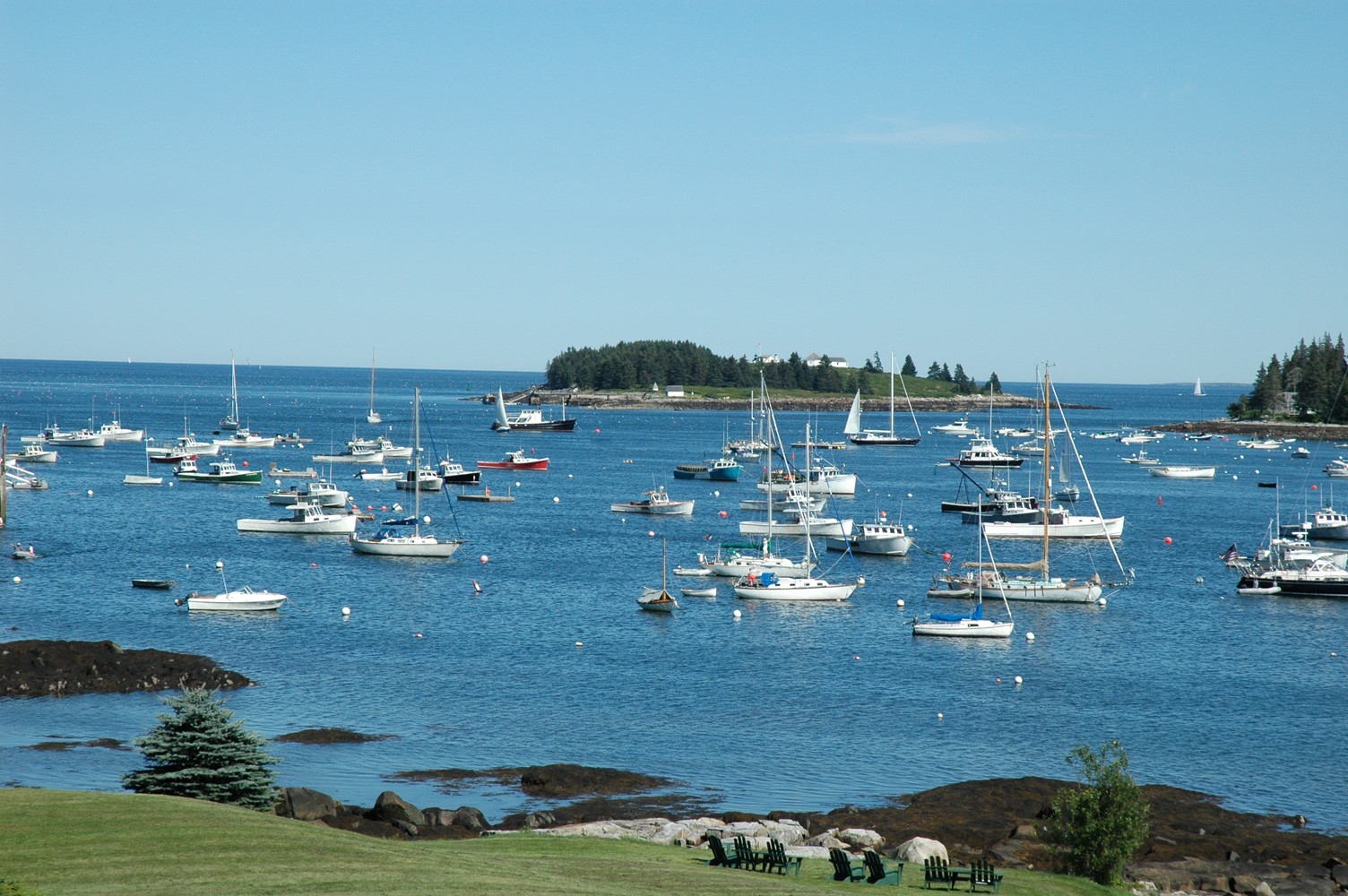 Your guide to things to do, places to go, where to eat, lifestyles, plus a whole lot more in the Mid-Coast area of Maine. The Mid-Coast of Maine is a wonderful, fun and spectacular area and I hope you find this website a helpful and entertaining resource! "Capt'n Dave" David Bruce, Mid-Coast Maine REALTOR®
PLACES TO STAY!
Stay with us at our classic New England cape The Tides at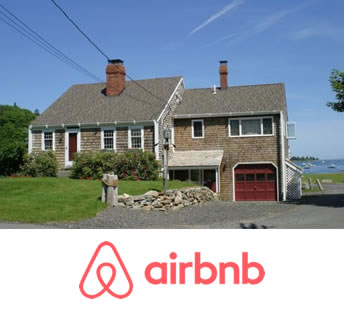 Tenants Harbor! The best "AIR" Bed & Breakfast on the Mid-Coast. It's a classic Maine seaside/harbor cottage. The view from the back decks is the large photo above. Pretty darn special! Check us out on AirBnB or contact me directly!
The Tides at Tenants Harbor. "AirBnB" (Harbor Suite)
The Tides at Tenants Harbor. "AirBnB"
(Captain's Quarters)
Also check out my next door neighbor in Tenants Harbor, the newly renovated The East Wind Inn! The East Wind Inn is awesome, with dining options and one of the best wedding venues on the Mid-Coast!
FUN MAINE THINGS TO DO!
The great thing about Maine is there is so much to do, see and experience. Now sometimes doing, seeing and experiencing something might entail sitting in an Adirondack chair, in the backyard, reading a book, watching the lobster boats and experiencing a cool ocean breeze. We spend lots of lazy days in Tenants Harbor. Sometimes though we are adventurous and on the move. Here is some fun stuff to do in no particular order. (just what's popping into my head at the moment)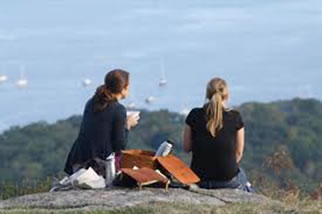 Picnic on Mt. Battie. I also mention it below under lunch places. Just an incredible view that I never get tired of! You feel like you are on top of the world! Just north of Camden off Rt 1 in Camden Hills State Park. A must on any visit!
Have Lobster Shore Cookout! Buy some lobsters, clams and mussels from a local fisherman or market like the Cod End in Tenants Harbor. Steam them up in a big pot of salted water. Add some potatoes, corn on the cob and melt some butter. Get some cold Maine beer and enjoy! TIP- I think the bigger the lobster the tougher the tail meat. Instead of eating a 3-pound "bug", eat (3) 1-pound "chicks". There are less expensive and the meat is sweeter! I also like soft-shell (shedders) if available!
Hike to Roaring Spout. The Roaring Spout is located on Roaring Spout Road, which is off of Harts Neck Road in Tenants Harbor. This is a small "forever wild" conservation parcel that is open to the public. Roaring Spout Road is a private road and motorized vehicles are excluded. Pedestrians and bicyclists are welcome. The Roaring Spout is 0.6 miles up Roaring Spout Road. Once there you will experience incredible views of the Atlantic and at high tide (especially if the sea is choppy) you will hear the ocean roar through the rock formation and may even get sprayed by the spout!
Hike Maiden Cliff. Access to this trailhead can be found off route 52 in Camden, however you may take longer hikes through various trails within the Camden Hills State Park trail system to reach Maiden Cliff. Beautiful views of Megunticook Lake. Easy hike, about a mile. Another awesome spot for a picnic!
Take Day Sail! Did you know there is more coastline in Maine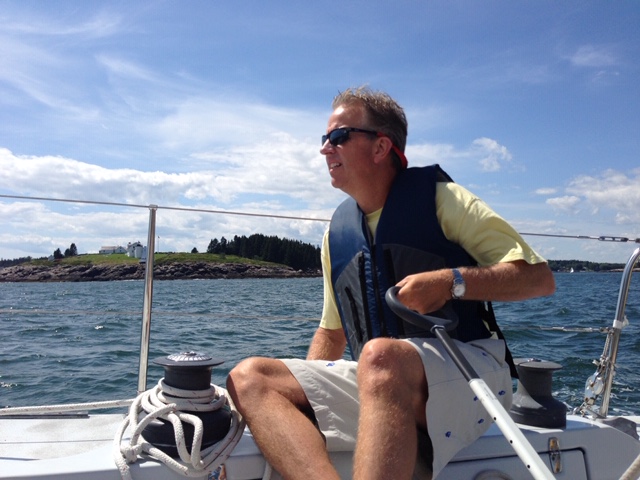 than California? Yep! And the best way to experience it is to get off dry land. There are a number of options to see the Mid-Coast of Maine by boat including many old, wooden schooners. Charters are available in Camden, Rockport and Rockland. Private charters are also available. We have sailed numerous times aboard the Bufflehead out of Rockland. sailrockland.com For bigger parties of if you are okay being part of a group we sail with Capt. Aaron Lincoln on The Olad out of Camden. maineschooners.com We love sailing around the Islands of North Haven, Islesboro and Vinalhaven!
Cruise aboard the Maine Windjammer fleet for 3 to 7 days! sailmainecoast.com
Take a Kayak Tour out of Port Clyde. Our friends take guided tours out of Port Clyde Village. All kinds of options including a Porpoise Tour and a Full Moon Tour!!! portclydekayaks.com Want to kayak in other areas on the MidCoast? Contact Maine Sport. MaineSport.com
Go Mackerel Fishing! What a fun fish to catch! Just find a public landing or wharf, use a "Christmas tree" lure and cast it in the water. They usually run in schools and it's not uncommon to get 3 or 4 on the line at once! Hint- Fish near a lobster wharf where they dump the old bait and bait juice in the water, Mackerel tend to school there.
Go to Drift Inn Beach! Rock and sand Maine beach between Tenants Harbor and Port Clyde. Go when the tide is down. Awesome for kids!
Visit Monhegan Island. A beautiful island 11 miles off the coast from Port Clyde, shaped like a whale, with 150 foot headlands on the north side sloping down to low coves on the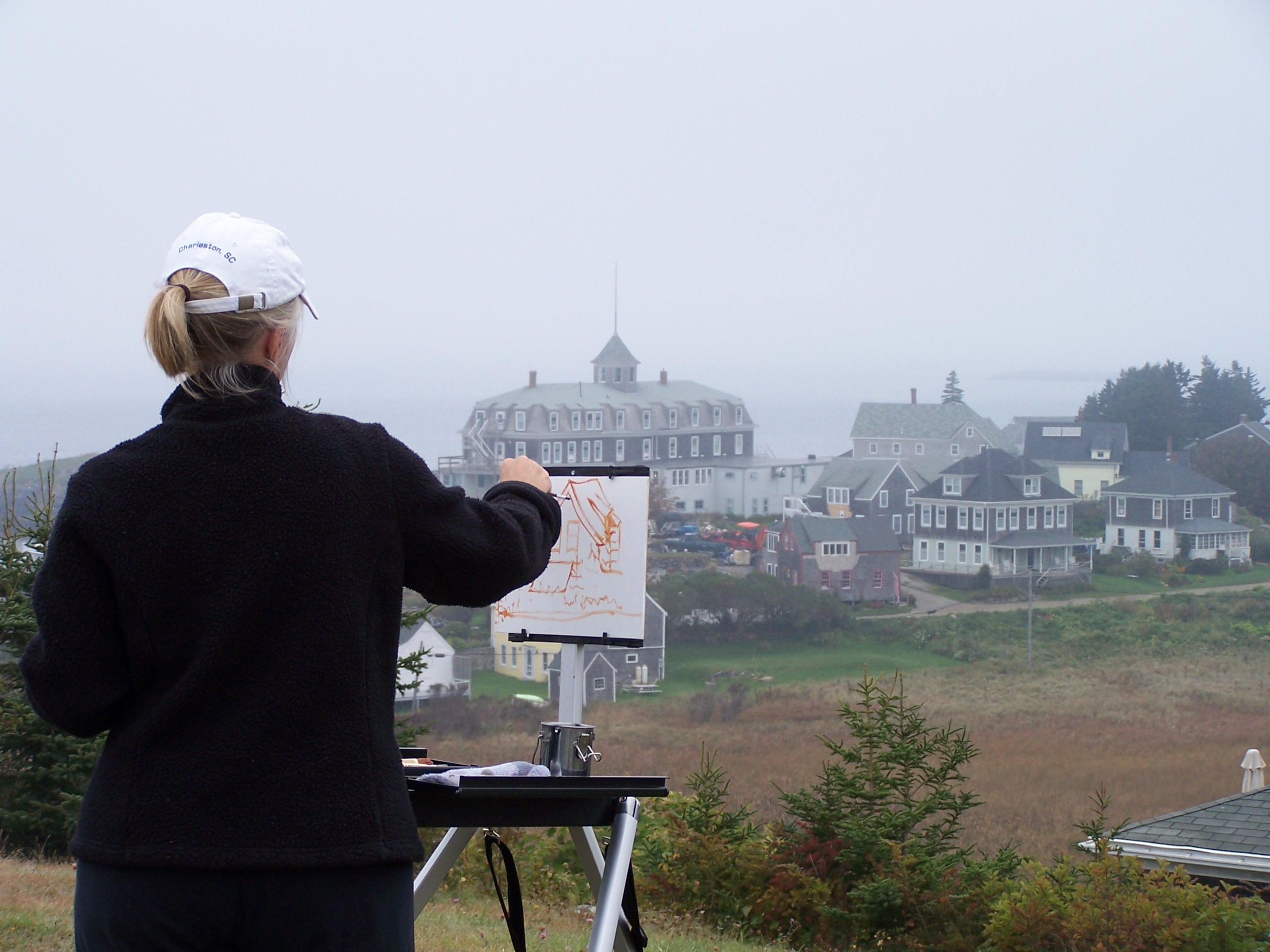 southern end. There are 17 miles of hiking trails on Monhegan, with hundreds of species of wildflowers and seabirds. Monhegan Island is also an art colony (Jamie Wyeth's has a studio there), with as many as 20 studios open during the peak summer months. monheganboat.com Have a cold beer at Monhegan Brewing! monheganbrewing.com
Check out the Owls Head Transportation Museum. The Owls Head Transportation Museum has one of the finest collections of pioneer-era aircraft and automobiles in the world. More than 100 historic aircraft, automobiles, bicycles, carriages and engines are on permanent display. ohtm.org
Experience Camden Snow Bowl. No matter the season the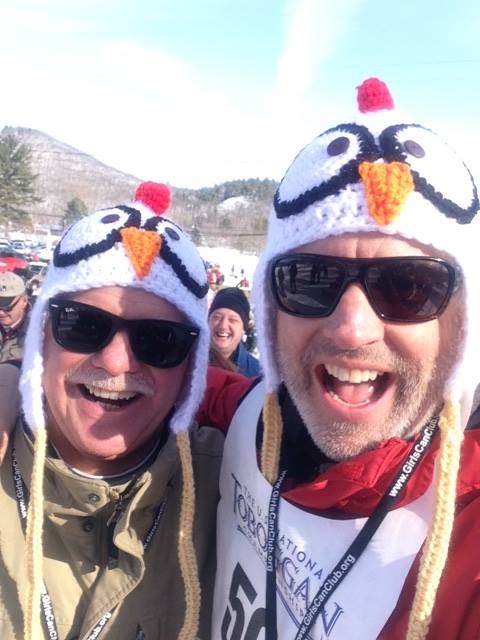 Camden Snow Bowl offers outdoor adventures. In the winter there is skiing, tubing and an awesome toboggan run. The Snow Bowl is host to the US Toboggan Nationals each February. When skiing you can experience a full view of the Atlantic Ocean and Penobscot Bay. Pretty darn incredible! In the warmer months there are mountain biking and hiking trails all over Ragged Mountain. In the Fall there are scenic leaf tours up and down the chair lifts. Throughout the year there are parties, festivals and concerts. camdensnowbowl.com
Visit Marshall Point Lighthouse in Port Clyde. Remember Forrest Gump running back and forth from coast to coast in the movie? Remember him running out to a lighthouse in Maine? Yep this is the lighthouse! Only 5 minutes from our cottage in Tenants Harbor. Prominently located on the rocky point at the entrance to the harbor of the fishing village of Port Clyde, Marshall Point Lighthouse and Museum offers visitors an engaging look at the local history, beauty and wonder of mid-coast Maine. marshallpoint.org
More Lighthouses! They're everywhere! A great way to tour Mid-Coast Maine is to visit lighthouses up and down the coast. This will take you to some of the most beautiful, picturesque and natural places in Maine. Stop by the Maine lighthouse museum in Rockland and map out your adventure! mainelighthousemuseum.org
Have a boat? Check out the Maine Island Trail! The Maine Island Trail is a water trail spanning over 200 islands and coastal sites along the 375 miles of the coast of Maine. One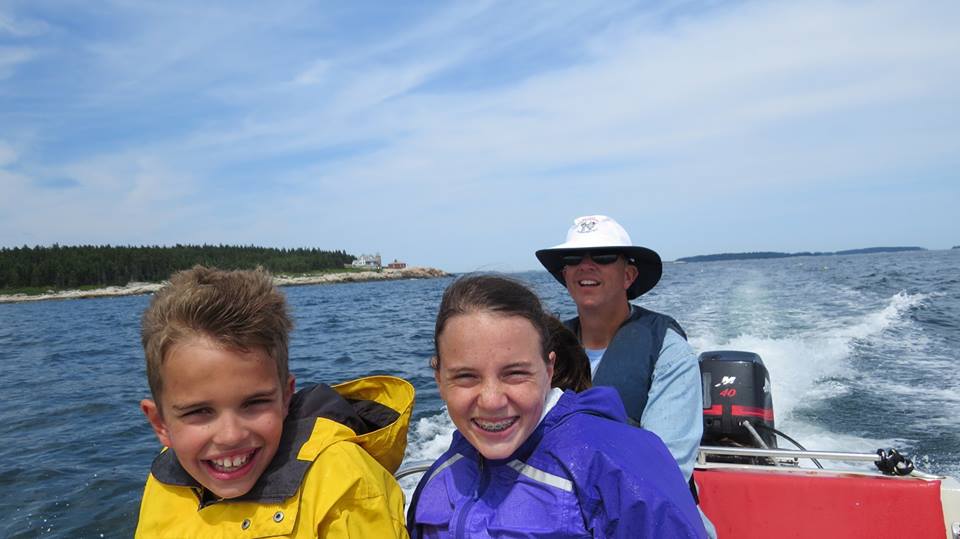 third of trail sites are public, and two thirds are owned by private organizations and individuals who trust us to care for their lands and teach our members to Leave No Trace. More than just the first recreational water trail in America, the Maine Island Trail fosters a culture of grassroots user-stewardship for Maine's islands. More info at mita.org Cap'n Dave is a member!
Take on a ropes course! A great family adventure! Maine's first high-flying family adventure park with zip lines!!!! Navigate through more than 30 obstacles from 12 to 50 feet in the air then zoom along one of the FIVE zip lines or a GIANT SWING! monkeycmonkeydo.com
Enjoy a Maine Festival! Maine-ers love to throw a good party! Check out a local festival or fair. Some of the more popular are The Maine Lobster Festival, The North Atlantic Blues Festival, St. George Days, Moxie Festival, Union Fair,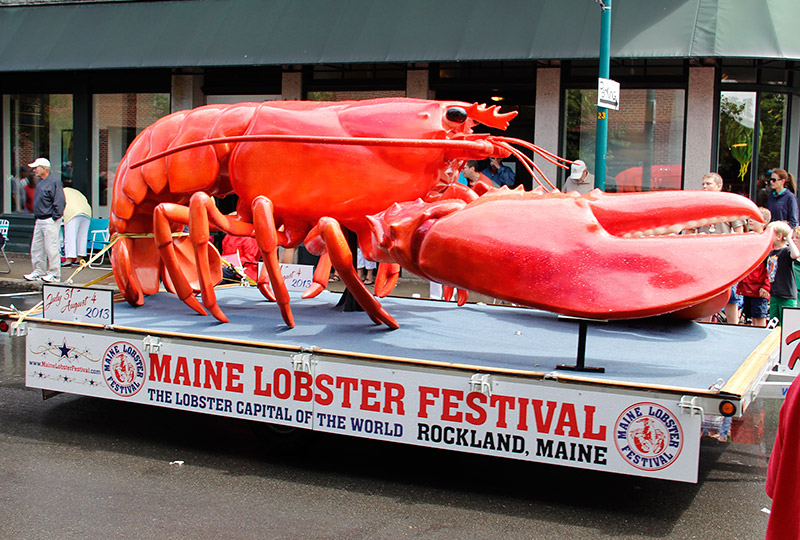 Wild Blueberry Festival, Camden Windjammer Festival, Maine Boats and Harbors Show, etc. Just "Google" these events or "Maine Festivals" to lean about more events!
The Maine Music Scene. Did you know Rockland Maine is considered a part of the Mississippi Blues Trail? Crazy, but true! Some of the biggest names in blues frequent Rockland. Each year in July Rockland hosts the North Atlantic Blues Festival and throughout the year top blues acts visit the Strand Theater or Time Out Pub in Rockland. In addition to blues Mid-Coast Maine hosts performances by local, regional and national artists in theaters, opera houses, outdoor parks, pubs, clubs and coffeehouse. Check out one of the local newspapers like the Free Press or Village Soup to see a schedule. freepressonline.com knox.villagesoup.com
Tee it up on a Maine Golf Course! There are plenty of courses in Mid-coast Maine to choose from including The Samoset, Boothbay Country Club, Rockland Golf Club, Goose Rive Golf Club and Northport Golf Club. samosetresort.com/Golf, boothbaycountryclub.com, rocklandgolf.com, gooserivergolf.com, northportgolfclubmaine.com
"THE WEATHAH" (WEATHER)
I once asked a lobster fisherman: What is the weather lookinglike for tomorrow? His answer was: "Won't know that 'til tomorrah". Truer words were never spoken! If you watch a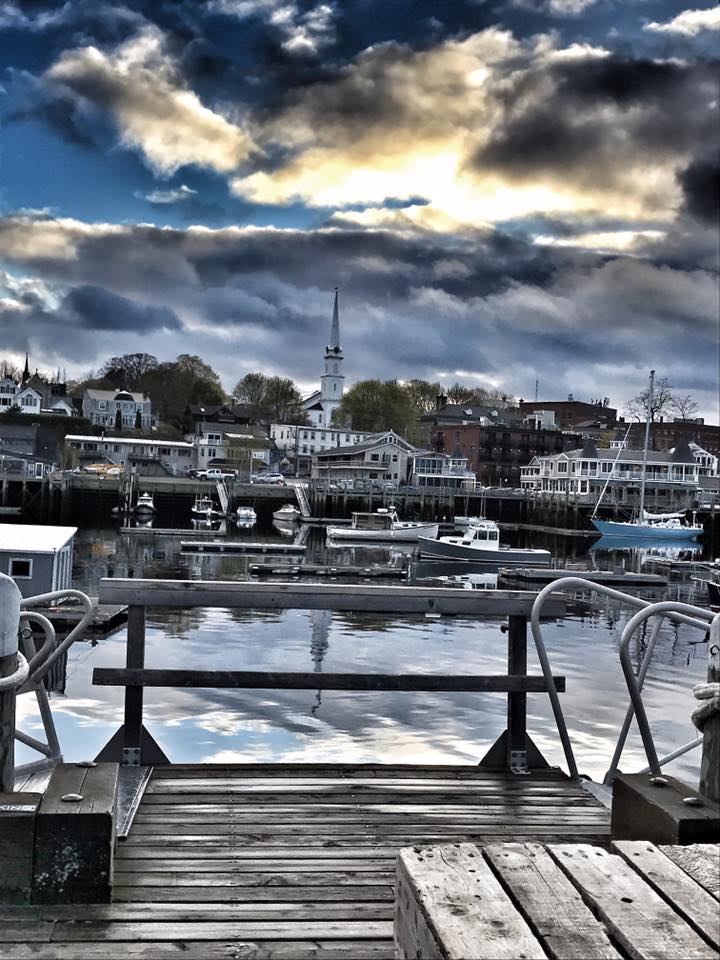 local weather report, they spend 90% telling you about what happened and 10% on the forecast. The weather is part of the beauty of Maine! There is sometimes nothing better than a cold, foggy day in August when jeans and sweatshirts are a must! Also remember it might be foggy and cool in Tenants Harbor and warm, brilliant sunshine in Camden. Be prepared anytime you venture out. Grab a raincoat and fleece, take a pair of shorts if you wear jeans. You just never know. No matter the conditions, don't let the weather slow you down on your Maine adventure! Remember what Capt'n Dave says: There is no such thing as bad weather, just bad gear!
RESTAURANTS, LOBSTER SHACKS, JOINTS AND DIVES
My favorite places for Breakfast…
Home Kitchen Café in Rockland. Fresh organic ingredients. Huevos Rancheros are legendary! Great omelets, pancakes and sticky buns. homekitchencafe.com
The East Wind Inn, my neighbor in Tenants Harbor. Quaint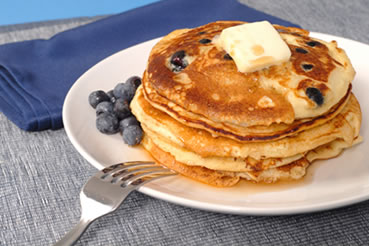 seaside inn restaurant, Great breakfast and incredible views. eastwindinn.com
Rock City Coffee in Rockland. Wonderful coffee house café. Best cup of joe on the coast! Great place to hang out, work on a laptop. Very social. Sometimes live music at night!
Squid Ink in Port Clyde on the docks. Cool little coffee spot with tasty breakfast treats. Can't beat the harbor view!
Boynton-McKay in Camden. Fresh, eclectic, tasty dishes! Cool café in an old drugstore! boynton-mckay.com
Moody's Diner, almost world famous diner in Waldoboro. Incredible blueberry pancakes! moodysdiner.com
Brass Compass in Rockland. Diner style, good, consistent home style cooking! The owner beat Bobby Flay in a cook-off! thebrasscompasscafe.com
Willow Bake Shop. Homemade doughnuts!!! On Rt.1 between Rockland and Rockport. willowbakeshoppe.com
Port Clyde General Store. Historic General Store right on the docks at the end of the St George Peninsula. Breakfast and lunch bar. Area hangout!
MAINLY LUNCH PLACES
Home Kitchen Café in Rockland. Yes, the same place I just mentioned for breakfast. Well it's a favorite lunch spot too!
Same fresh ingredients and awesome flavors. They have a "wicked good" lobster sandwich served on homemade bread with lettuce tomato and mayo. Not your typical lobster roll! Fish tacos are great and they make the tortillas fresh per order right in front of you. Lobster tacos, the reuben, the cheese steak, the chowder and everything else is great as well. Go there! homekitchencafe.com
Thomaston Café in Thomaston. Sort of a Maine bistro feel to the place. Good sandwiches. On a cool, foggy day there is nothing better than their fish chowder! thomastoncafe.com
Picnic on Mount Battie. Imagine sitting on top of a mountain and looking straight down to a beautiful Maine harbor and out to the sea! For this southerner, experiencing this view was my Maine "aha moment". Mount Battie is just outside Camden. Stop in Camden at the Megunticook Market or the Camden Deli, grab a sandwich and drive up to the look out and enjoy the best view in Maine! megunticookmarket.com, camdendeli.com
LOBSTER SHACKS, DIVES AND WHAT I CALL "SEAFOOD IN THE ROUGH"
Luke's Lobster, our neighbor in Tenants Harbor. On the lobster docks/working waterfront at the Tenants Harbor Lobster Co-op. Awesome lobster, seafood, pies and a great selection of Maine craft beers. www.lukeslobster.com
McLoons Lobster Shack, an authentic Maine lobster shack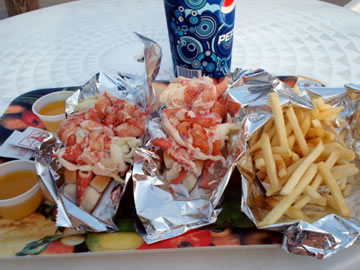 located directly across from a working lobster wharf on the beautiful island of Spruce Head. Its really really good! Awesome lobster and crab rolls, dinners, clams, etc. Incredible view! mcloonslobster.com
The Black Harpoon in Port Clyde. Love this place! Good seafood dishes, pasta, steaks. Fun décor and the best fisherman's bar in Maine. Separate bar from restaurant. Peanut shells on the floor, area lobster buoys hanging from the ceiling. Come hang out with the locals. Careful with the drinks though, they are strong! Don't get "pooned"!!! theblackharpoon.com
The Happy Clam in Tenants Harbor. Classic Maine-German cuisine. Yep, it's a husband and wife team. He is from here and she is from Germany. Have a German beer with your fried clams or a Moxie soda with your Weiner Schnitzel! Family restaurant with a playground for the kids and a Biergarten for the adults!
Millers Lobster in Spruce Head. Classic Maine lobstah shack on a quiet cove. All the classics and homemade pies too! millerslobster.com
Red's Eats. Okay it's a ways away (about an hour) in Wiscasset, but if you are traveling through or on a day trip its worth checking out. Always featured in magazines and always a long line holding up traffic on Route 1. I was skeptical thinking it was too touristy, but they make a darn good lobstah roll!
Drift Inn Canteen Seafood in Port Clyde. An actual lobster boat captain serving seafood from a stand in his front yard. Just a walk through the woods if you are hanging out at Drift-Inn beach. Also check out their Oyster Bar in Rockland! NorthBeaconOyster.com
The Slipway in Thomaston. I hesitated classifying the Slipway in this section, but it is at the town landing in Thomaston. There is more outside seating than inside seating, it has a really cool outside bar on the water and it's staple is classic Maine "seafood in the rough". Shore dinners, classic seafood baskets and a killer raw bar menu. I usually order up oysters on the half shell, the Port Clyde shrimp app with Cajun mayo and the Mosquito Island crab claws with mustard sauce. You can also order inspired entrees and specials with a nice bottle of wine. One of those places where you can come in a t-shirt without shaving or in your blue blazer and pressed Vineyard Vine khakis. Awesome spot! maine-slipway.com
Rhumb Line in Camden. Sister restaurant to the above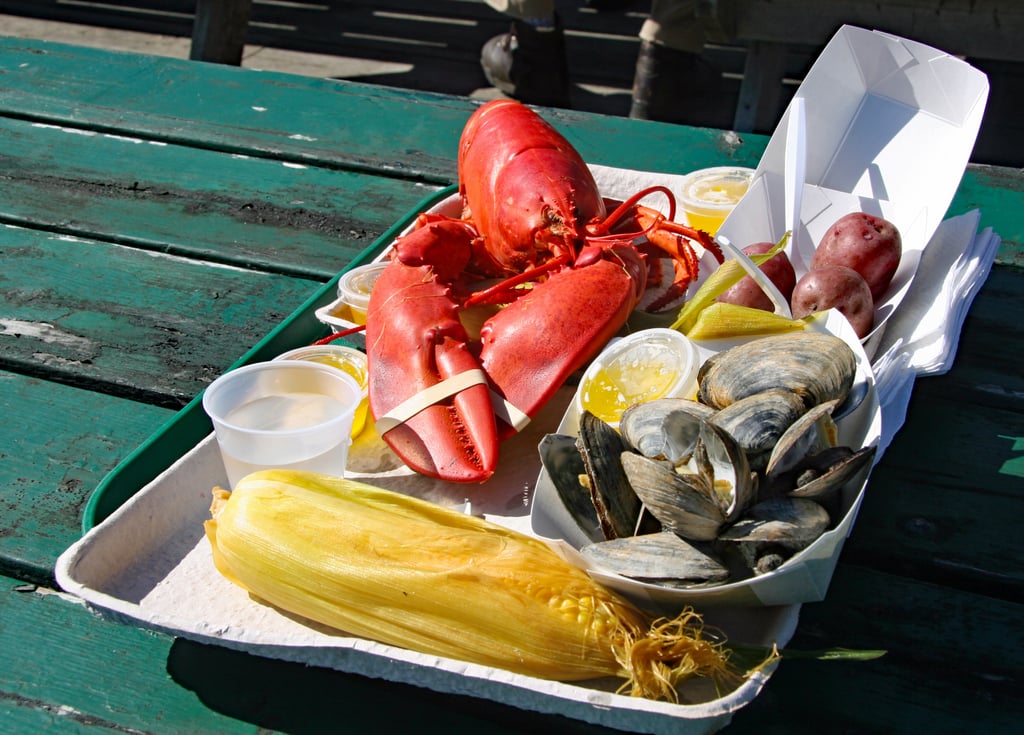 Slipway. They serve the freshest, locally-sourced seafood on the dock at the Wayfarer Yacht Center. Lunch and dinner are prepared daily in our scratch-kitchen using the freshest ingredients our local area has to offer. Same menu as Slipway. Incredible house-made pies!Beautiful view of Camden harbor. RhumbLineCamden.com
The Dip Net in Port Clyde. Wharfside dining with full outdoor and indoor bars and table service. Meals that are informal, fun, and tasty, specializing in hot toasted lobster rolls, steamed lobster dinners, and seafood specialties. TheDipNet.co
The Barn in Port Clyde. A funky informal place to gather between 4 and 9 pm. Enjoy, cold beer, cocktails and a fresh raw seafood bar. An art gallery is upstairs. Located directly across from the Port Clyde General Store.
Hot Dogs? How about the famous Wasses in Rockland! I call them "Gut Grenades" but boy they taste good!
MY FAVORITE RESTAURANTS AND HAUNTS
Café Miranda in Rockland. Crazy eclectic décor and menu.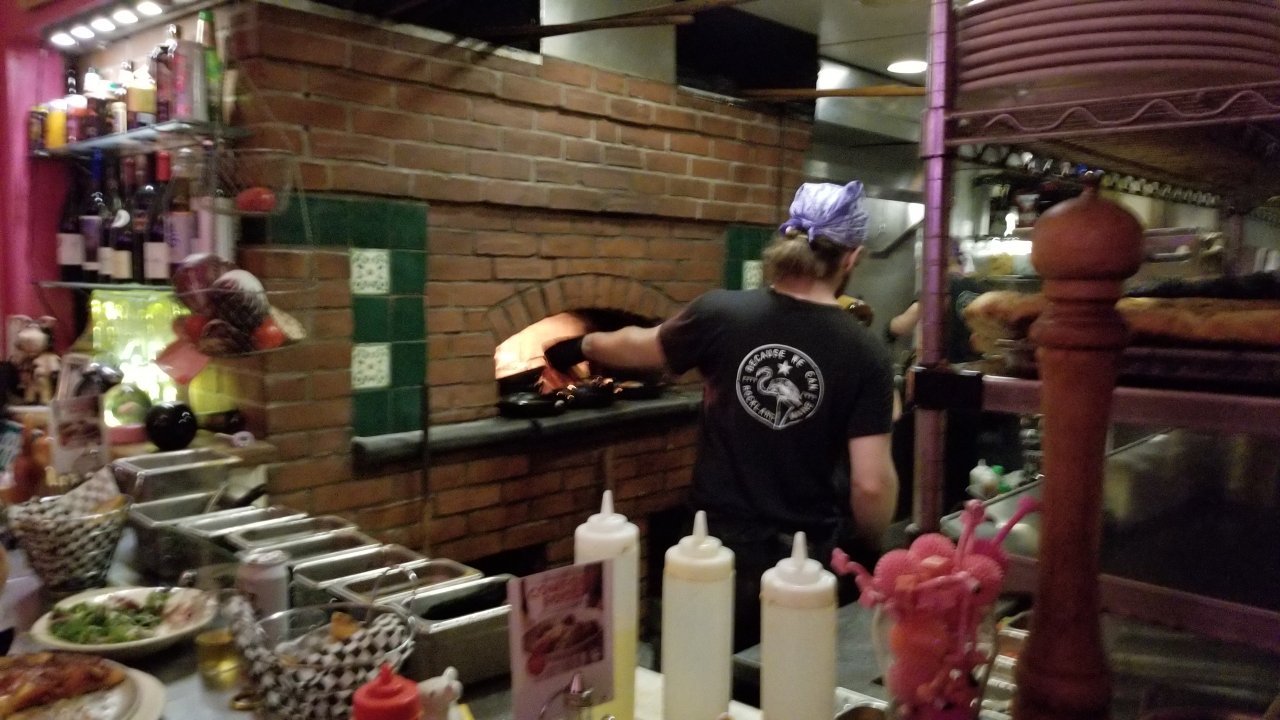 Something for everyone and I mean everyone. You must check out the menu! Did I say crazy eclectic? Incredible flavors, many dishes cooked in wood fired oven. Seafood, steak, pasta, salads, American, Italian, Polish, burgers, pizza, chicken, veal, fresh vegetables, vegan, homemade bread etc. If Elvis and LL Bean opened up a restaurant together it would be Café Miranda! I love to sit at the 4 person chef's bar and watch them cook! CafeMiranda.com
The Waterfront in Camden. You can never go wrong at The Waterfront. Beautiful spot right on Camden harbor. Good place to sit and talk about which boat in the harbor you would like to buy! Eat inside and out. Maine inspired entrees always good, always fresh. Good bar too! waterfrontcamden.com
Ada's Kitchen in Rockland. Traditional Italian Cuisine- Handmade pastas & pizzas, craft cocktails, a wide selection of Italian wines & local Maine craft beers… one of the best bars on the Midcoast! AdasKitchen.com
Franny's Bistro in Camden. Usually ranked as one of the top area restaurants. Definitely want to break out that new Vineyard Vines outfit for Franny's. Wonderful dining experience. Great spot for that special occasion! FrannysBistro.com
Pizza? Yep – Mid-Coast has some good ones. Our favorites include Flatbread Company in Rockport flatbreadcompany.com and the Camden House of Pizza. Gourmet pizza is available at Café Miranda and also at Rustica in Rockland.
Good sports bar? Check out Cuzzy's in Camden. Great burgers, pizza, wings, lobster rolls etc. CuzzysRestaurant.com
Long Grain Thai Restaurant in Camden. An incredible spot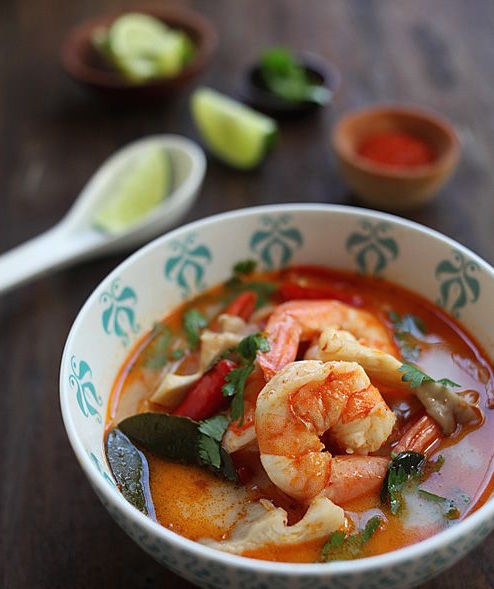 that has been featured nationally. I love the Spicy Night Market Soup! Call for reservations! (207) 236-9001 LongGrainCamden.com
Sushi? Yep – Actually one of the best in the country is in Rockland at the award winning Suzuki's! suzukisushi.com
Where can you get a Guinness in this town? Glad you asked! At the Douthy Bear of course in Camden. An authentic Scottish pub with great fare, whiskeys and beer. Try the Welly Boot entre, my favorite! Owned by a native Scot! drouthybear.com
Sammy's Deluxe in Rockland. Really nice ingredients prepared simply, juicy cheeseburgers, smoked fish, fresh seasonal produce and meats. A carefully chosen menu of unique cocktails/wines/beers/ciders. Great spot! sammysdeluxe.weebly.com
In Good Company in Rockland. Great small plates and classic cocktails in an intimate setting. Ingoodcompanymaine.com
COFFEE & COFFEE HOUSES
Rock City Coffee Roasters Café in Rockland is a great spot. Grab your laptop, a newspaper a cup of locally roasted "joe" and spend the morning! rockcitycoffee.com
Squid Ink on the Dock in Port Clyde. Grab a cup and watch the boats head in and out!
Also great spots all over the Mid-Coast at General Stores, Cafes etc. Also checkout Zoots, Boynton-McKay and the Owl and Turtle Bookstore and Café in Camden.
MAINE CRAFT BEER
After sailing Maine's sparkling seas, kayaking and canoeing its pristine lakes and harbors, hiking its mountains or skiing down its snow-covered slopes, what could be better than an icy-coldbeer—especially a hand-crafted one from a local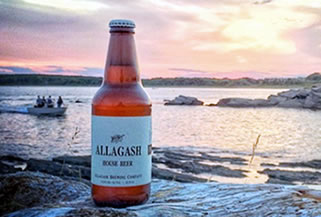 microbrewery or brewpub? Maine now ranks fifth in the nation for the number of breweries per capita. The Maine craft beer revolution, steadily brewing for nearly 30 years, shows no signs of slowing down. Among our favorites are the Maine Beer Company Lunch, Allagash White, Shipyard Summer, Rising Tide Island Trail Ale, Peak Organic IPA, Sea Dog Blueberry Ale, Rock Harbor, Monhegan Brewery, Baxter, Marshall Wharf, Threshers, WOW I COULD KEEP GOING! Just check out this list and you decide! Main Brewery List
THE BEST WAY TO END A DAY IN MAINE! ICE CREAM!!!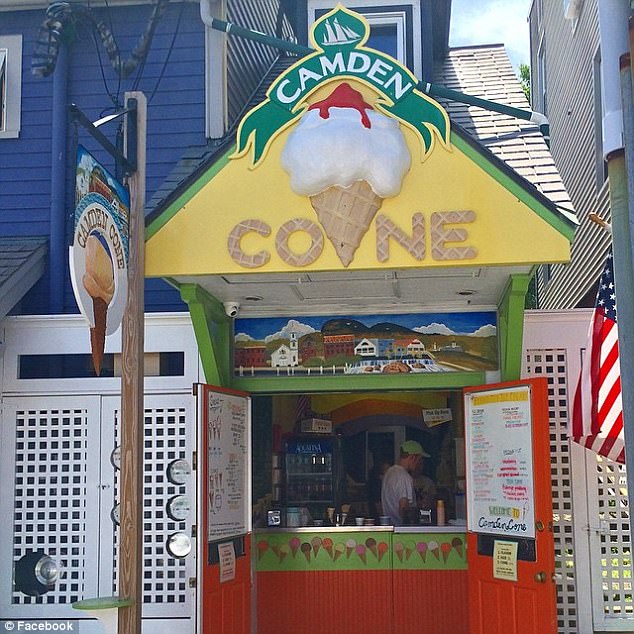 After a long day of fun on land or at sea ice cream is the perfect ending. It's sometimes good in the morning and afternoon too! Village Ice Cream in Port Clyde is an awesome little spot. Dorman's Dairy Dream is a classic drive in stand in Thomaston on Route 1. Round Top Ice Cream in Damariscotta is part of a dairy farm, is fantastic and worth the drive. Check out LuLu's next to Café Miranda in Rockland and the Camden Cone in Camden.
MARKETS & GENERAL STORES
I will spare you the details about Shaw's, Hannaford's, Wal-Mart- etc, here are the local spots to check out!
Fresh vegetables and fruits from the farm? Beth's Farm
Market in Warren just south of Thomaston. bethsfarmmarket.com
Two great local "old fashioned" groceries are French & Brawn and Megunticook Market, both in Camden. Great meats and poultry! frenchandbrawn.com, megunticookmarket.com
On the St. George peninsula check out the Tenants Harbor General Store and the Port Clyde General Store for sundries, drinks, ice and plenty of goodies.
Fresh baked bread and goodies? Atlantic Baking in Rockland. atlanticbakingco.com
Farmers Markets? Plenty of those around including one in Rockland, rocklandfarmersmarket.org and one in Camden, camdenfarmersmarket.org Also there is sometimes a Saturday Farmers Market on the St George Peninsula.
Green Bean Catering is an incredible catering/prepared food business in Tenants Harbor. We use them to stock the fridge when we have groups at The Tides Cottage! Delicious! greenbeancatering.me
SHOPPING SHOPPING SHOPPING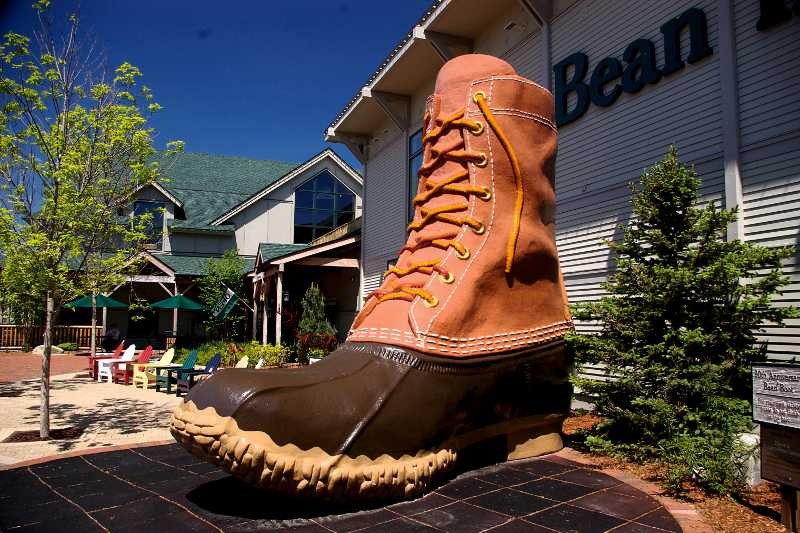 There is no shortage of shopping along the Mid-Coast of Maine. All along roads- whether in a town or the countryside it seems like stores just pop up! I love the entrepreneurial spirit of Mainers and I encourage you to check out all the local stores and shops and support them. Shopping hotspots include Rockland and Camden plus plenty of hidden gems all over the place! Some of our favorites…
Stonefish on Main St in Tenants Harbor. An eclectic gift shop self described as a quirky little place where past stories and future dreams lie waiting- A magical adventure for intrepid seekers. Not sure what that means but they have cool stuff!
Blue Tulip in Tenants Harbor. A cool little garden boutique and gift shop. bluetulipmaine.com
Real Finds in Tenants Harbor. Unique antique consignment shop.
Hedgerow in Martinsville/Port Clyde. Part garden center, part gallery, part gift store part farmers market Reall cool! hedgerowdesign.com
House of Logan Camden/Boothbay houseoflogan.com
Curator Consignment in Rockland. Very cool consignment shop on Maine Street!
Grasshopper Shop Rockland grasshoppershopofrockland.com
Sherman's Books, Gifts, Toys Camden shermans.com
The Smiling Cow Camden smilingcow.com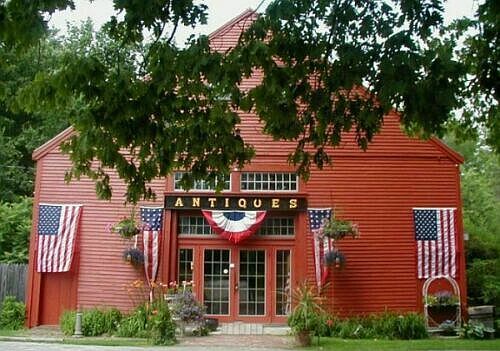 Camden Merchants CO-OP is a collection of antique dealers in an old theater in Camden.
Elmer's Barn is a great rainy day trip in Coopers Mills. Something right out of American Pickers!
Hello Hello Books in Rockland and Owl and Turtle Books in Camden.
Maine Sport mainesport.com
GALLERIES, ARTISTS, MUSEUMS
Love painters, sculptors, potters and other artists??? You have come to the right place! The Mid-Coast of Maine is full of incredible artists and Rockland, Rockport and Camden feature some of the country's finest galleries.
Arts In Rockland is a not-for-profit, co-operative, collaborative organization made up of more than 20 galleries. First Friday Art Walks are held on the first Friday of each month, May through October. This is an awesome event each month. List of galleries.
St. George Open Studio Art Tour. The artists of the town of St. George will hold an annual Open Studio Tour each summer. 25+ artists on the St. George peninsula will open their studios to the public. There is no charge for the self-guided tour. The roadside location of each studio will be indicated with an AStG Open Studio Tour sign.
The Farnsworth in Rockland. The Farnsworth Art Museum celebrates Maine's ongoing role in American art. It offers a nationally recognized collection of works from many of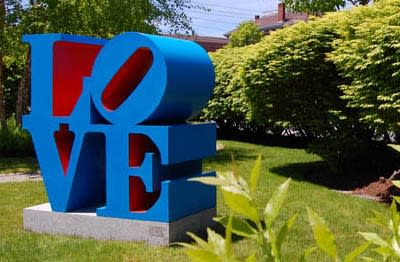 America's greatest artists, with 20,000 square feet of gallery space and over 10,000 works in the collection. The Farnsworth has the second-largest public collection of works by premier, 20th-century sculptor Louise Nevelson. Its Wyeth Center features works of Andrew, N.C. and Jamie Wyeth. The Farnsworth's library is also housed in its Rockland campus. Two historic buildings, the Farnsworth Homestead and the Olson House, complete the museum complex. farnsworthmuseum.org
Jamie Wyeth Tenants Harbor jamiewyeth.com
Gary Akers South Thomaston garyakers.com/artistinfo.html
Barbara Ernst Prey Port Clyde bluewaterfinearts.com
Phoebe Bly St. George phoebebly.com
George Pearlman Pottery in St George. georgepearlman.com
Maine Center for Contemporary Art Rockport cmcanow.org
Ralston Gallery in Rockport. Incredible photography by Peter Ralston and limited edition Wyeth prints. ralsongallery.com
Allen David Boothbay allendavidgallery.com
Thomaston Place Auction Galleries thomastonauction.com
FINAL THOUGHTS…
There is a special magic to Mid-Coast Maine that makes you happy to be alive! You see the magic at sunrise and through the sea-smoke as lobsterman head out for the day. You feel it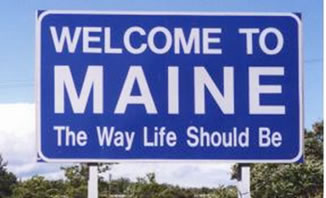 on a boat as you leave Tenants Harbor, past the American flag on Mouse Island, the Lighthouse on Southern Island and as you look back to the mountains of Camden. You hear it in the call of a seagull, the sound of a buoy bell or the laughter of your kids crabbing off a dock. Part of the magic of Maine is the physical beauty, but just as important are the people of Maine and the culture. It's walking into a General Store and seeing a lobsterman sitting with a renowned artist and a Supreme Court justice talking about the weather. There is an authenticity to Maine– in her beauty, in her people and in her places. I think Maine is a place you have "to get". Not all people do, but I sure am glad I do! Enjoy your Maine adventure! The way life should be!
David Bruce, Mid-Coast Maine REALTOR®
(207) 747-1444 David@DavidBruceMaine.com